T
he Byrds are one of the all-time great American bands.
They pioneered the sounds of folk-rock and country-rock.
Roger McGuinn said his goal was to put a folk sound to a rock beat.
After seeing the Beatles "Hard Day's Night" movie Jim McGuinn (he later changed his name to Roger) bought the instrument that would define the Byrds sound; the Rickenbacker 12-String electric guitar. He saw George Harrison playing one and knew he had to have one!
Here are 10 great covers of Byrds songs
Roger McGuinn has said when he first heard Tom Petty's "American Girl" back in the 70's he thought it was some lost Byrds' track that he forgot about!
Petty has always been honest about his love for the Byrds and the two men have become good friends over the years
Petty has covered a number of Byrds songs, Including this one:
"So You Wanna Be A Rock n' Roll Star"
YES is considered one of the greatest Prog Rock bands of all time.
It's funny that on their first couple albums they did some unlikely covers of songs by the Beatles, Stephen Stills, Richie Havens, and this one from the Byrds. This probably my favorite Byrds cover.
"I See You"
Dutch band Golden Earring is best known for their hit "Radar Love" and, later, "Twilight Zone".
One of the highlights of their live shows was their cover of "Eight Miles High"
"Eight Miles High"
Funny that before Steve Howe was in YES, when they were doing those covers, Steve was in the band Tomorrow doing their own Byrds cover!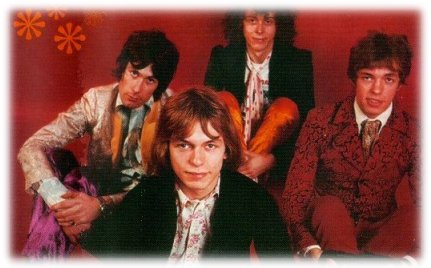 "Why"
90's alt rock power popsters the Posies have an excellent knowledge of 60's & 70's pop.
They've done some great covers and were even part of the Big Star reunions before the death of Alex Chilton. Here's is their great cover of one of David Crosby's best songs
Guitarist Eric Johnson has a real talent of taking a rock/pop classic and turning it into something cool and different (he's even covered the Monkees!).
Ok, this one was written Bob Dylan, but it was the Byrds who turned it into a folk rock hit.
"My Back Pages"
In 1998 Tom Petty reunited his old band Mudcrutch to record an album, (better late than never!).
The guys did a great version of the late-period Byrds classic "Lover of the Bayou"
"Lover of the Bayou"
9
0's alt rock/power poppers Teenage Fanclub

a

lso have a great love for 60's and 70's classic rock.
Here they cover what is probably the late Gene Clark's best and most Byrds-like song
"I'll Feel a Whole Lot Better"
The Human Instinct were apparently a New Zealand band in the late 60's-early 70's. I had never heard of them.
Here they perform a faithful version of a David Crosby and Roger McGuinn composition
"Renaissance Fair"
For the final selection, I'm going with another nice cover by Tom Petty and the Heartbreakers.
Bob Dylan gave Roger McGuinn the first couple of lines and told him to finish it for the "Easy Rider" soundtrack
"Ballad of Easy rider"
Roger McGuinn is still out there playing some of these great songs
you can find him on Twitter
@RogerMcGuinn
and the web
mcguinn.com